Lago di Braies/Pragser Wildsee, situated between Brunico/Bruneck and Dobbiaco/Toblach, is a magical day trip destination in South Tyrol.
Braies Lake is indeed quite stunning both for its position, framed as it by the Dolomites, and especially the imposing Croda del Becco (Seekofel, 2,810 m), and for its emerald green and turquoise waters, so clear you can mirror yourself.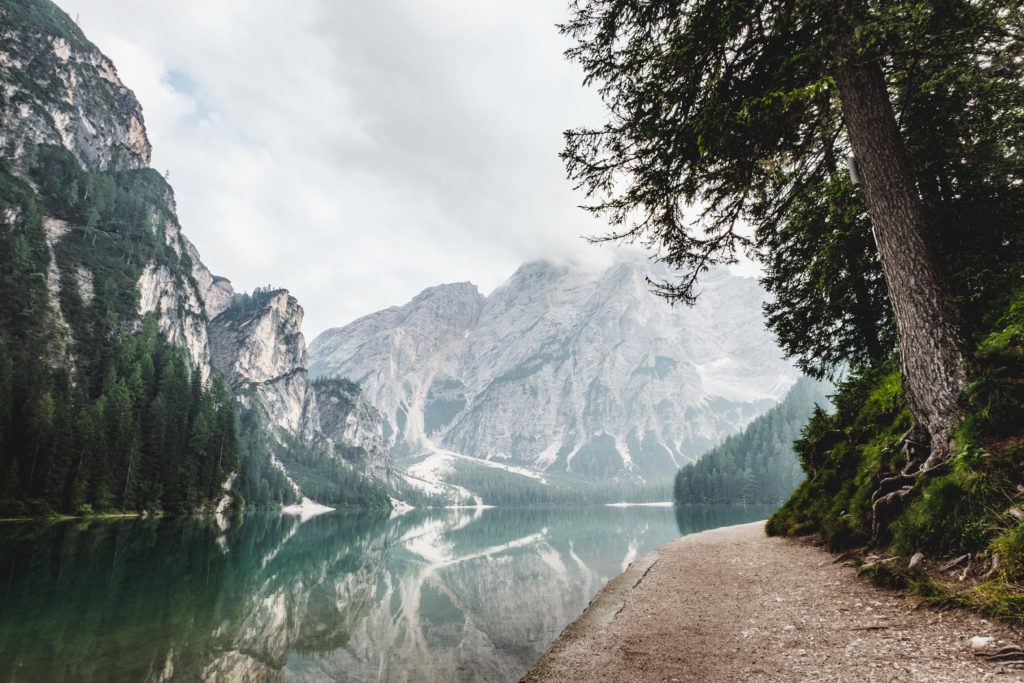 Located 1,500 meters above sea level in the northernmost point of the Fanes-Senes-Braies Natural Park, roughly 100 kilometers from Bolzano, the main city in South Tyrol, Braies is a natural lake that formed after a landslide blocked the river Braies. The lake attracts hikers, bikers and climbers, especially during the summer months, when the parking lots located nearby can get very crowded. You'd be better off reaching the lake on foot.  A nice two-hour hike through woods, certainly more rewarding than getting to such a beautiful natural place by car.
A little church built in 1904 stands by the shore almost at the end of the lake path. The church was part of one of the last events that took place during World War II: 137 political prisoners were taken from concentration camps in Germany under the order of the SS commander in chief, who was hoping to exchange them for his safety. The exchange took place at the Hotel Pragser Wildsee, on the lake shores, and the liberated prisoners prayed at the chapel. Braies Lake is also the starting point of the famed Alta Via n. 1 of the Dolomites, which traverses the Dolomites at high altitudes for 150 kilometers reaching Belluno in Veneto. – See more at: http://www.italymagazine.com/news/lago-di-braies-must-see-lake-dolomites#sthash.9j04Npsf.dpuf